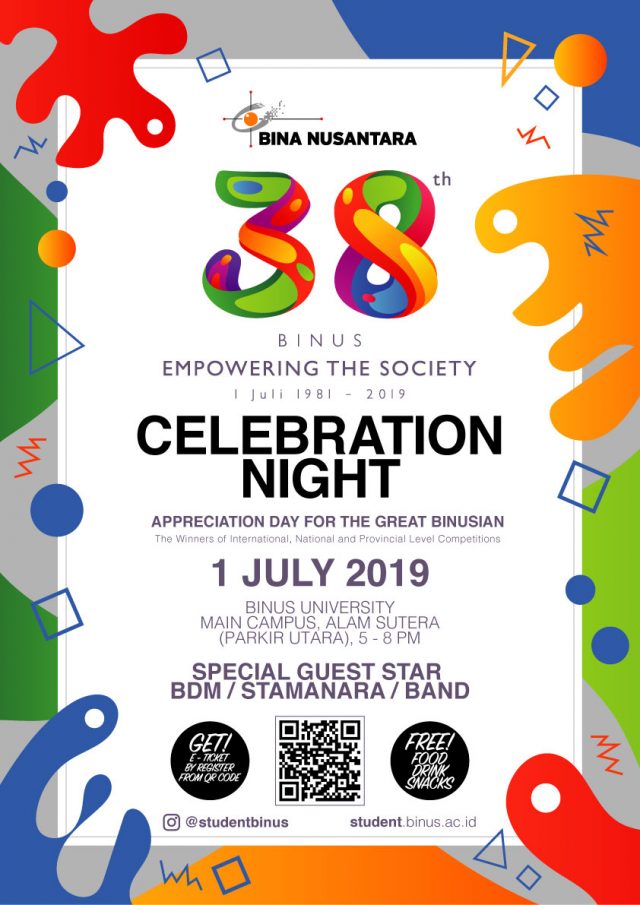 Hai Binusian,
Kami mengundang kamu untuk hadir dan menjadi bagian dalam acara BINUS CELEBRATION NIGHT 2019 " The Great Binusian" yang akan diadakan pada :
Hari : Senin
Tanggal : 1 Juli 2019
Waktu : Pkl. 17.00 – 20.00 WIB (Open Registration pkl. 16.00 WIB)
Tempat : BINUS ALAM SUTERA (Parkir Utara)
Dress Code : Casual Formal
Acara ini merupakan rangkaian acara Ulang Tahun BINA NUSANTARA ke-38 Tahun dan juga acara Appreciation Day 2019 yaitu acara pemberian penghargaan kepada mahasiswa BINUS UNIVERSITY yang telah mengharumkan nama Almamater dan Negara dengan berbagai prestasi Akademik atau Non Akademik.
FREE ENTRY
FREE FOOD
FREE DRINK
ENTERTAINTMENT
and GUEST STAR ARTIST!!
SIlahkan daftarkan diri anda melalui link berikut ini >>
https://tinyurl.com/BCNMahasiswa
Segera daftarkan dirimu, tempat terbatas lohhh…